Todd Lester writes a monthly blog post on RU's Dialogues detailing the preparation and implementation of Lanchonete.org, a 5-year residency project in Sao Paulo.
2015.4 – Lanchonete.org on Water
By Todd Lester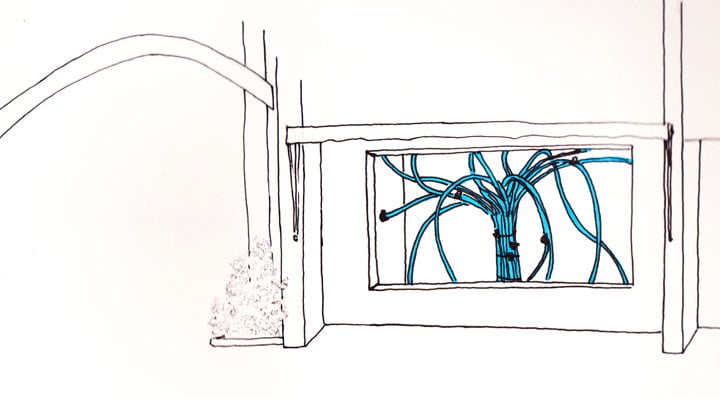 water_treee
In the March blog on Policy, I answer a question posed to me by one of the founders of Artists in Context, Louisa McCall, which went like this: If the idea is for outside artists to come to São Paulo to listen, learn, engage and thus add value to and amplify the work of local citizens (artists included) who live in the Center, how will the data from this 'complex amplification device' reach policy makers?
When answering that question and detailing our current and future  usage of specific media and modes of exchange (e.g. series of introductions, workshops, print zine, broadsheets, online reportage, video, culminating events, and residual traces of the process, e.g. debates, interviews, policy briefs, lingering art works and the ephemeral and/or non-materials impact of artist interaction), I imagined that having a specific example would be most illustrative in explaining how Lanchonete.org--as a progressive, urban, cultural platform--can hold, detail and amplify a critical issue as well as the popular, citizen-based dialogue that normally happens in the streets and lunch counters ... yet may go unheard by policymakers.  We believe that such an 'amplification device' occasions a unique feedback loop from citizens (artists and others) to urban decision makers. With São Paulo's water crisis unfolding in the last year, and the relative dearth of solutions from official channels, we've been testing out the platform on this subject.  While the results are yet unfolding, early developments include an exhibit curated by Lanchonete.org at Kunsthalle São Paulo entitled Hydrotropismo; an op-ed article in the World Policy Journal by participating artist, Thiago Gonçalves; an artist roundtable (through a related project known as A.RT) moderated by local urbanist and curator, Thiago Carrapatoso; and a forthcoming radio emission by Radio Amarela.  Stay tuned for a deeper analysis of our work on water in São Paulo, as the results are yet flowing!
---
More Lanchonete Posts:Lanchonete: