Todd Lester writes a monthly blog post on RU's Dialogues detailing the preparation and implementation of Lanchonete.org, a 5-year residency project in Sao Paulo.
2015.2 – Lanchonete.org on Policy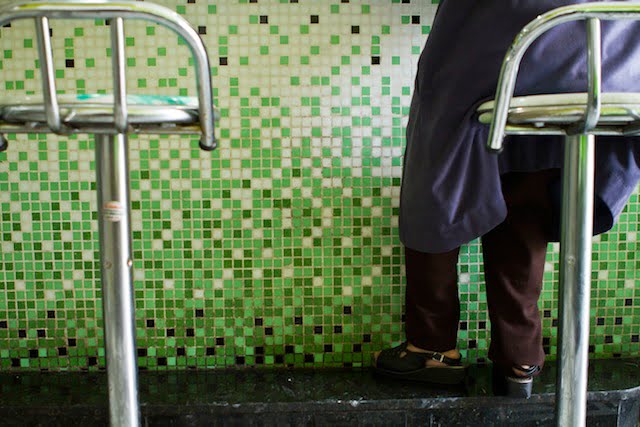 Lanchonete-on-Rua-Mendes
Hi everybody. This month, I will respond to a question from one of the founders of Artists in Context, Louisa McCall, which goes like this: If the idea is for outside artists to come to São Paulo to listen, learn, engage and thus add value to and amplify the work of local citizens (artists included) who live in the Center, how will the data from this 'complex amplification device' reach policy makers?
I'm so excited to have this question that I've put off answering it a few months in order to think more deeply about it. It is implicitly a huge question for the overall Lanchonete.org project, one for which my understanding changes as the project develops and starts to materialize (as a lunch counter) this year. First off, I'll go back to our design. Lanchonete.org works with a ratio of approximately two-thirds local artists and one-third international artists, which means that the international artists are never on their own to interpret, decipher and 'know' the city. They function in a cohort with local artists during each project cycle. I explain the 'cohort' and project cycle approach more deeply in my blog on Status Quo last year.
And in my blog on Power, I talk about the usage of specific media and modes of exchange (e.g. series of introductions, workshops, print zine, broadsheets, online reportage, video, culminating events, and residual traces of the process, e.g. debates, interviews, policy briefs, lingering art works and the ephemeral and/or non-materials impact of artist interaction). These different elements will assure a unique feedback loop from citizens to urban decision makers. For each project cycle, a journalist and a curator will work closely together as a consistent support mechanism to the process, making sure that the information accessed and feedback prompted reach a wider public.
And in my first blog of 2015, I shared the articles Reclaiming the Jungle (Brasil Wire) and The peril of hipster economics (Aljazeera), the latter of which asserts:
                           Gentrifiers focus on aesthetics, not people. Because people, to them, are aesthetics…
To Louisa's question, it would be impossible for the 'amplification device' to work if people were seen as aesthetics. Especially in that the project sees people as policy makers themselves. In the aforementioned blog on Power, I use both Chantal Mouffe's analysis on representative democracy's relation to popular sovereignty and David Dery's concept of policy by the way to challenge the dichotomy between policy makers and citizens of the polis, and to consider Brazilian examples of when people inform—through participation, art and/or protest— the policies that affect them.
The former article is interesting too—as is this article on Casa Amarela—because they speak to something the UN Special Rapporteur on Adequate Housing, Raquel Rolnik recently told me in an interview, which is that one new development she sees is the role of cultural agents (both outsiders and insiders) active in the social movements.  In the words of my colleague, Steven Tepper at the Herberger Institute: How do we expand the policy imagination? I think that's what we're trying to do here ... to encourage 'policy' to be people-centric by including people—as 'makers'—whose realities fall outside those of dominant culture.
In other news, three of the Lanchonete.org team—Lorena, Raphael, and I—began an intensive seminar on Insurgent Cartography that attempts to 'map occupied São Paulo' over the next week. And in recent media, Isabel was interviewed by Diálogo UPR on the project, and a piece I wrote was invited to the February 2015 edition of Interartive. Oh yeah, this week we receive the first artist of the year, Joseph 'Pepe' Patricio and his project, Nowhere Kitchen.  Stay tuned for more on the role of 'cultural agents' (thinking about this nice text on Arte/Cidade), capitalist appropriation of the Right to the City, the agora, Pepe's visit, and what I refer to as radical home ownership in my last blog.
All best,
Todd
---
More Lanchonete Posts:Lanchonete: