Todd Lester writes a monthly blog post on RU's Dialogues detailing the preparation and implementation of Lanchonete.org, a 5-year residency project in Sao Paulo.
2015.1 – Lanchonete.org on a New Year
By Todd Lester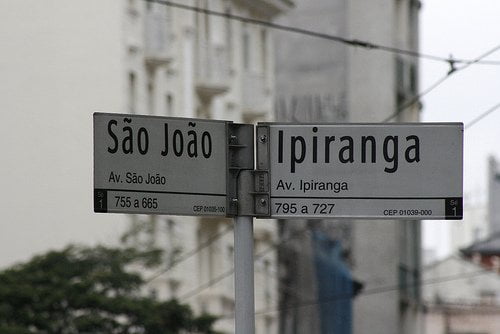 5054041933_360ceae659
First off, happy new year! It feels like a long time since I've written an update on Lanchonete.org. In addition to fully moving to São Paulo these past weeks, I have had a lot of time to read and think about the next steps in the process of 'making' Lanchonete.org during the holiday season. I wonder if you've heard about the city's encroaching water shortage or the protests against public transport fare hikes (you might remember the Vinegar protests of 2013 which were about the same issue). Has anyone read this article, Reclaiming the Jungle (Brasil Wire) or Pandemonium erupts in Brazilian metro station as police fire tear gas into crowd after protest (Fusion), or even The peril of hipster economics (Aljazeera), which makes the following assertions:
Urban decay becomes a set piece to be remodeled or romanticised. This is hipster economics…
Gentrifiers focus on aesthetics, not people. Because people, to them, are aesthetics… [and ultimately that]   
Gentrification spreads the myth of native incompetence: That people need to be imported to be important, that a sign of a neighbourhood's 'success' is the removal of its poorest residents. True success lies in giving those residents the services and opportunities they have long been denied.
I admit there is a big bundle of considerations required for sussing out the values of a group of people (artists and outsiders among them) engaging the process of urban change in São Paulo – in what the art world may understand as relational aesthetics – in in tandem with a process of community organizing, e.g. a long process of discussion, getting to know differences, understanding of values, and building trust. I am continually humbled, and somehow rejuvenated, by this rigorous process. So, let me tell you what's been happening since I arrived in December.
Over the past six months, Lanchonete.org has been a part of the HABITACIDADE: Oficina do Habitat Urbano, a working group convened by Escola da Cidade to coordinate the work of artists, activists, urban planners, architects, students and professors in housing occupations throughout the city. In addition to serving as a broad platform for this type work, HABITACIDADE is working specifically with the Occupation São João, one of Lanchonete.org's strongest partnerships in the Center of São Paulo (via its Centro Cultural São João), to aid the community in negotiations for purchasing their building. While I won't go into the bureaucratic details of this process, the purchase of a building by an occupation is one of the most people-centered, and perhaps, radical outcomes (or options) of the cumulative negotiations between a housing movement and a city. People who offer up immense 'sweat equity' and exhibit fierce determination to live in unused buildings across the city of São Paulo are often denigrated in the media as 'invaders'. Their form of 'occupying' a space is typically seen as a nuisance by the business-minded speculators who through a variety of financial mechanisms – what Saskia Sassen terms "complex types of knowledge and technology we have come to admire […used] too often in ways that produce elementary brutalities" – angle for the same real estate properties in hopes of financial gain and often unconcerned with the housing standards and convenience of the lower economic classes, which are typically the same people providing manual labor that undergirds the class ascension of others.
All of that to say, over the past couple weeks the Occupation São João (in tandem with it's negotiations) has invited Lanchonete.org to consider renting the ground floor commercial space in the building it seeks to purchase. While we are understandably cautious to (a) not destabilize their negotiations and to (b) make sure the project can enjoy a full lifespan at this location, we are also deeply honored and quite excited by the idea.
In the coming year, we have are working with an amazing line-up of repeat guests (e.g. Joseph Patricio and Jakub Szczęsny), local artists (e.g. Thiago Gonçalves and Vitor Butkus), exhibitions (e.g. Kunst Halle São Paulo), and tentative projects with Kristiania Collective and Publication Studio while we identify a space for the lunch counter. And should the idea of being embedded in the Occupation São João's community and building come to fruition, it will be a dream come true. So, while I wait, I'll just keep Sampa by Caetano Veloso on replay … fingers crossed!
In the mean time, we hold our planning meetings in lanchonetes all over the Center of São Paulo … sorta getting in the mood for what is to come. Next month, I'll answer a question from one of the founders of Artists in Context, Louisa McCall, which goes like this: If the idea is for outside artists to come to São Paulo to listen, learn, engage and thus add value to and amplify the work of local citizens (artists included) who live in the Center, how will the data from this 'complex amplification device' reach policy makers?'
I look forward to tackling this big question in the coming weeks. Thanks for reading.
---
More Lanchonete Posts:Lanchonete: