Todd Lester writes a monthly blog post on RU's Dialogues detailing the preparation and implementation of Lanchonete.org, a 5-year residency project in Sao Paulo.
2014.8 ~ Lanchonete.org on Occupation
By Todd Lester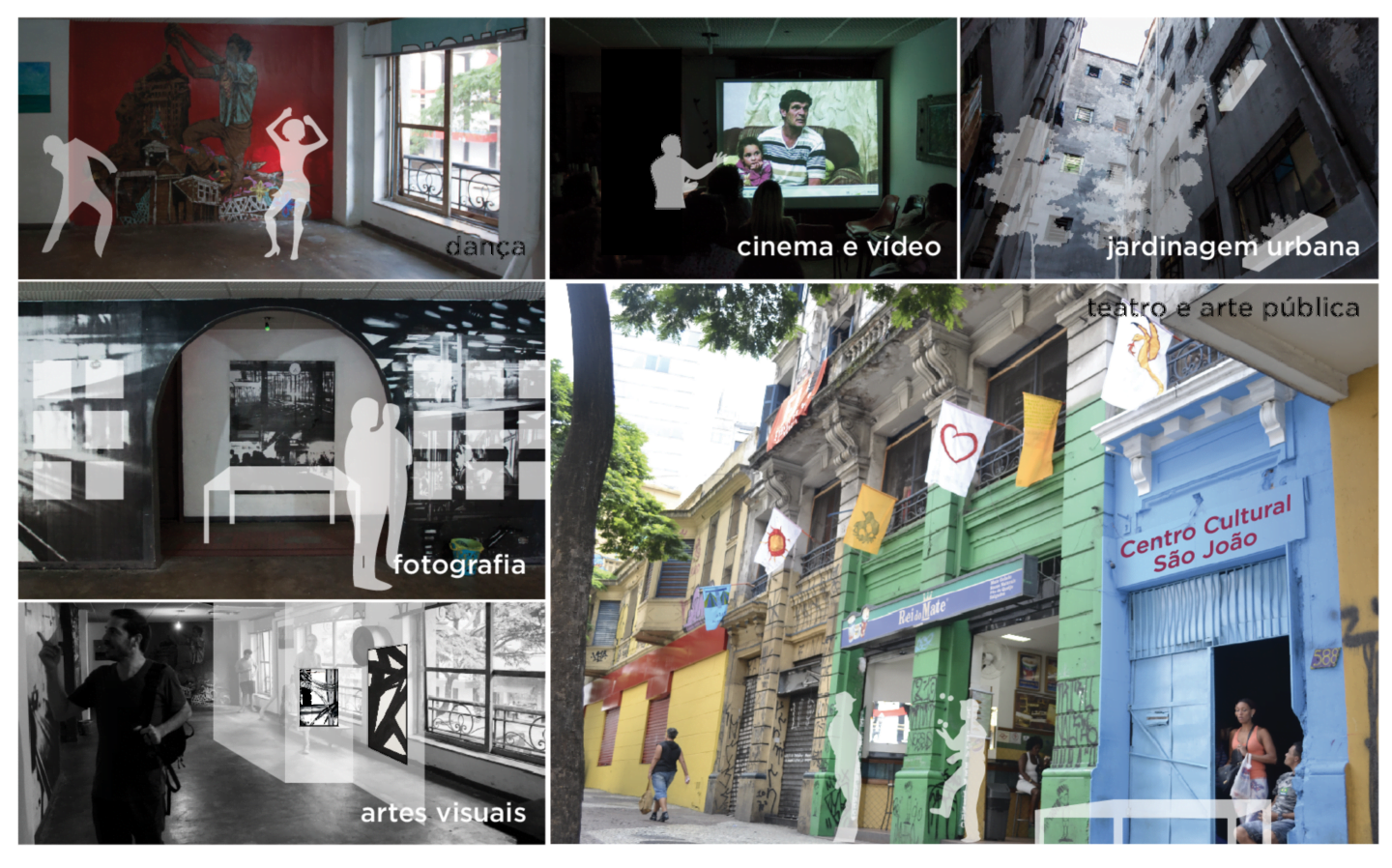 CCSJ_Scenarios
"Lanchonete.org works in partnership with the Occupation São João and its Centro Cultural São João, a community space on its first floor. This is one of the locations around the Center where artists residents will live, and I was the first one to stay there back in March (2014). About two weeks ago, a sister occupation across the street – also a member of the Frente de Luta por Moradia (FLM) housing movement – and its 200 families were forcibly evicted. My question is what action should be taken in order to bring the occupiers, the municipality and the landlords to the same table? Can artists, activists and cultural producers play a role in these negotiations?"
- Question from Jakub Szczęsny, the first artist resident to Lanchonete.org.
Thanks Jakub … that's a great question! It's complicated. The current mayor in São Paulo, Fernando Haddad has actually been open to discussions with the occupations. The problem is that the property speculation that is and will – fairly rapidly, now that it's kicked off – change the face of the Center of São Paulo is entrenched via machine politics that predate and transcend the duration of any one mayoral term. This is compounded by the cumulative desires of developers and the urban planners they influence as well as new residents in the Center with higher purchasing power and different expectations of both public and private goods. Case in point is the debate over the Minhocão Viaduct that cuts through the Center (known locally as the 'big worm') that some would have mimic the Highline in NYC. There are campaigns both for and against that contingency.  Another example of this tension was the court approving a ban on a prominent development protestor.
Let me say more about the social movement for housing in São Paulo – the FLM – by way of describing São João and Lanchonete.org's involvement. São Joao is an occupation in the center of São Paulo that is women-led. There are 160 residents (67 families), hailing primarily from the 'Zona Leste' (the East Zone), who overtook the derelict Hotel Columbia Palace (built in 1926) to live close to their jobs in the convenience of downtown. They deftly understand the role of culture in how they claim their rights to the city. This has led to a variety of cultural activities anchored by the creation of the 'Centro Cultural São João' on their second floor, a place where youth hang out, celebrations held, Capoeira practiced, English lessons offered, LGBT community meetings convened, etc. Over the past couple years, Lanchonete.org has entered a partnership with Occupation São João that has resulted in a book drive to help expand their library (Pivô, October 2012); public programming during the 2013 Architecture Biennial; and a project cycle that includes co-producing one of their monthly Café Imaginario events on the theme of 'home' (March 2014), providing multimedia content on forced evictions through a strategic introduction to the human rights organization, WITNESS, installing an exhibition of family portraits by local photographer, Leandro Viana; and an artist engagement programme for which you (Jakub Szczęsny's) were the first resident.
Jakub, recently I've been asked a few times to explain what you did when living at São João. I explain that you conducted research and something like a casual charrette that lasted throughout the three weeks of your stay. If I may, I'd like to share a bit more about the idea (and resulting plan) that you had while in residence. Based on the idea that the community of the Occupation São João can benefit from creative, collective and long-term tactics of legitimization that acknowledge and affirm its contributions to its neighborhood in the Center of São Paulo and as a leader in the Frente de Luta por Moradia (FLM) movement, you proposed a process of auto-branding as a communitarian adaptation of corporate branding strategies, in which the traditional corporate board is replaced by the leadership and interested residents of an occupation such as São João.
On a legal level, this is already being achieved through semi-institutionalization (landmark preservation of the building) and by adopting the status of an NGO (registering a cultural association/cultural center that functions on the first floor of the building). Yet a general public awareness, external expressions of the community's complex identity, and adequate publicity of the positive impact São João creates both inside and outside of the immediate community are lacking.
You believe that communicating the occupation's aforementioned attributes is important in undoing negative perceptions held by the public and transmitted by the media, and that currently eclipse the qualities of self-determination and intentional community-building for which São João is a dynamic example. This is a project that we plan to continue with the Occupation leadership, and that you'll help to implement next year when you return to São Paulo.
Of course the flow of ideas and strategy goes both ways. By placing artists-in-residence in the Occupation and serving as a connector – wherever needed – we continue to listen to the advice/counsel that the occupation movement avails to the Lanchonete.org project broadly. We believe this will be a unique, prototypal process in which inhabitants of São João, citizens of São Paulo, and artists of different origins and specializations – music, visual and performance arts, graphic design, photography, horticulture and architecture – will be involved horizontally.
The people who live at São João represent the experience of occupations throughout the city. They are maids, security officers, kindergarten teachers, street workers, community organizers, cooks, artists and students. During the week workers and students leave the building every morning, younger children and the elderly stay to play, work and cook together. Every evening a different activity fills the common room with different forms of entertainment, church services, beauty salons, and other community meetings. Saturdays are cleaning days. As much as they can, they repair it, build new additions, and take care of it. The same happens in a number of occupations throughout the city, where it is estimated that some 400,000 apartments and commercial spaces are empty due to a unique real estate 'stockpiling' phenomenon in São Paulo.
Back to your original question about the role of artists and activists: I think they (or we) play an essential role in humanizing lifestyles and choices, such as those of the occupiers, that aren't wholly intuitive to other groups who also make up the city. Given the predictability of capital, and how it tends to cater to those with higher purchasing power when left unchecked, I believe our involvement has the ability to 'turn the dial' from opaque to – at least – a tad bit more transparent.  In fact, there are many artists, activists and cultural producers in São Paulo doing just that, such as the journalist and artist group, Architecture of Gentrification and others.
Oh yeah, before I close, let me say more on Leandro Viana's portraits of the occupiers at São João. He is preparing the second part of this project that will document the empty spaces of buildings before being repurposed by occupiers or developers, thereby illustrating the 'stockpiling' phenomenon mentioned above. Jakub and Leandro will be in conversation as a part of the Art in Odd Places (AiOP) festival and Utopia School on Saturday, October 11th @ 8pm. This event will be moderated by São Paulo-based curator, Thiago Carrapatoso, and is free and open to all. Similarly, I will take part in the Perfect City panel during the Crossing the Line Festival on Monday, October 6th to discuss Lanchonete.org. Thanks for reading!
Todd Lester
---
More Lanchonete Posts:Lanchonete: