Todd Lester writes a monthly blog post on RU's Dialogues detailing the preparation and implementation of Lanchonete.org, a 5-year residency project in Sao Paulo.
2014.7 ~ LANCHONETE.ORG ON MULTIDISCIPLINARITY
By Todd Lester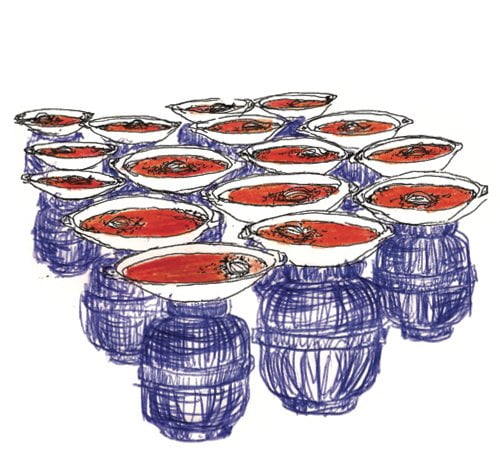 lanch#7
Ilustração de Thiago Correia Gonçalves
Sebastien Sanz de Santamaria, RU's Director of Operations asks: Having the privilege to see Lanchonete.org originate and grow from idea to seedling to a sprout with lots of potential, it becomes apparent that you are creating a robust, structured 'wireframe' designed to nurture a fluid, informal network. How does the project navigate between these two sides of the spectrum? Do they nourish each other?  And, does this occur naturally, or does one need to pull out the bullhorn?

Sebastien, thanks for asking this question.  I'll be short and sweet because this being the opening week of the São Paulo Biennial, there is a lot of art to see and socializing to be done.  I think the answer is yes … and yes. They do nourish each other, yet sometimes a bullhorn is required!
Actually one of the biggest issues is related to the art world understanding the world-world it is in and vice versa, the world-world, perhaps, depending on an art project as an observation deck onto the urban condition.  What I mean is that in the art world we are enduring what I believe to be a market-driven fascination with social art.  What this seems to mean on the ground is that community processes that are by artists or are art themselves are expected to reveal themselves often faster than the life cycle of a community organizing endeavor.  So, to be both requires a steadiness that rebuffs capitalist tendencies – via the art world – to commodify the processes of peoples' lives.  This I feel is the deep work that I want Lanchonete.org to both understand (as an outsider) and to engage in as it is itself gradually accepted by the community
On the other hand, other sectors don't always make way for artists and art projects at the decision-making tables.  Therefore there is a bit of chameleon, code-shifting that has to happen.   As an urbanist, I also get to share historic and ongoing art projects that have influenced or been a part of urban policy setting with potential non-art partners to the Lanchonete.org project.  This entails a layer of education that is sometimes prerequisite to being taken seriously when arguing that Lanchonete.org has something to offer the Center of São Paulo as a cooperative restaurant and artist engagement program.  Of course the work of local São Paulo philosopher, Nelson Brissac Peixoto and his residual project, arte/cidade offer a fine example to point to.
It was reassuring, however, to hear about an upcoming event held by a local art gallery on issues surrounding the privatization of public space by the local watchdog initiative, Architecture of Gentrification.  In fact, there is a robust mobilization asking for thoughtful, people-centered growth comprised of artists and cultural producers along with anti-forced eviction activists, community organizers, occupation dwellers and other citizen groups living and working in the Center of São Paulo.  In partnership with these community members, Lanchonete.org aspires to be a prism through which understanding and dialogue on issues and conditions that reflect daily life in the Center can gain momentum and flourish, and thus be the vehicle for a citizen-authored feedback loop with the prospect of informing urban policy-setting.
Another confusion that has occurred a few times is local artists seeing the project as strictly curatorial – and therefore hierarchical – rather than a partnership with another artist.  That too, just requires patience and time in dialogue.  As I often say, the project is a business-as-Trojan-Horse; therefore, I shouldn't be surprised when confusion arises.  It is simply because the project is revealing itself to me at only a slightly faster pace than it is to the community.  What I love about the current phase is that the cooperative ethos and structure that undergirds Lanchonete.org is starting to become clear to its local peers.  We have our first membership meetings in November at which community members (artists among them) can opt into the management and ownership of the lanchonete.
You know this past Summer I got the chance to attend emersion Portuguese language school at Middlebury College in Vermont.  While there I took a drive over to Glover, the home of Bread & Puppets for their Summer Sunday pageant and tour.  Our tour guide told us that Bread & Puppets is a gesamtkunstwerk, or an artistic approach that makes use of other art forms.  I like that.  I think Lanchonete.org is one of those too…
PS, take a gander at the first edition of our menu-zine launched at the Tijuana Book Fair last week in the Center of São Paulo.
---
More Lanchonete Posts:Lanchonete: