Todd Lester writes a monthly blog post on RU's Dialogues detailing the preparation and implementation of Lanchonete.org, a 5-year residency project in Sao Paulo.
2014.5 ~ LANCHONETE.ORG ON RESTAURANT AS FORM
By Todd Lester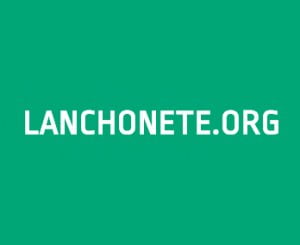 lanchonete_300
Depending on whom I'm speaking with, I often get two responses to Lanchonete.org. Somebody from the art world will invariably reference Gordon Matta Clark and FOOD. And others may ask 'how is this art again?' Both responses are nice because they elicit elaboration on different facets of the project. Lately, I've had the chance to talk to some social finance people (perhaps, a third audience category), and they want to know how (or if) it is a social business and may delve into a discussion on the global B Corp (or benefits corporation) movement. Back in May, I had the chance to sit down with Gwylene Gallimard & Jean-Marie Mauclet (a.k.a. JEMAGWGA), the artist duo that made Fast & French in Charleston, South Carolina over 30 years ago. I met them a few years ago at an Alternate Roots meeting and we've been in dialogue ever since. I hope you enjoy our meandering discussion on restaurant as form. As I learn more and more about the food projects that populate art history, I'm able to offer an off-the-cuff typology … there are [a] those that are about food, [b] those that are about community, and [c] those that are about ownership or transferal of ownership (an extension of [b]). Ownership and the question of sustaining a business is, perhaps, the common ground food-related art projects have with for-profit restaurants: If they don't pay attention to their bottom line, they won't last very long. Before I delve into social finance and art world specifics, which I'll do in subsequent blogs, let me first speak to the notion of restaurant as form, and specifically to the work of setting up a food system and its relation to community ownership.
While it is easy to view the restaurant as the tangible goal (or medium) of Lanchonete.org, the association (Associação Espaço Cultural Lanchonete) is the backbone of the entire initiative, even if it is less visible. It is the mechanism by which resources can be attracted and held to implement the project; the mechanism by which community members (artists and non-artists, organizational leaders, youth and residents of the center) can participate in the project; and ultimately the mechanism by which the infrastructure and other capital assets can be transferred to community members at the end of a five-year project period, leaving behind a new citizen group with a set of resources and the common agenda to encourage open dialogue on pressing issues that span class and other, erstwhile, divisions in society. The restaurant is accessible to the public (including guest artists) for regular meals during breakfast and lunch hours, and at night the food service is organized, themed and directed cooperatively by community members who have joined the association and the participating artists. These may range from special events to weekly community dinners.
During the first two years of the project (2013 and 2014), there's a focus on building institutional partnerships with food, youth and social service organizations such as Cities Without Hunger (Cidade sem Fome) and GastroMotiva in order to develop a just food system in the short-term, and to begin planning handover of the restaurant facility to members of the community after the end of the five-year project in 2018.
Cities Without Hunger is a world-renowned, urban gardening initiative operating in the East part of São Paulo where unemployment is at the highest level in the city. Therefore teaching households how to grow produce in urban conditions provides both a healthy diet and income-generating opportunities. Cumulatively the gardens under Cities Without Hunger management produce at a surplus; therefore it is possible for a restaurant to buy directly from producers. GastroMotiva trains at-risk, urban youth to cook and become chefs in professional kitchens. It shares a very similar ethos with Cities Without Hunger, to first improve food preparation and dietary habits at the household level that, in turn, leads to employment opportunities and holistic betterment in families, communities, neighborhoods, business and the city. We plan to purchase our produce from Cities Without Hunger and hire our restaurant staff from the ranks of GastroMotiva trainees. Furthermore, we have asked the founders of both organizations to be part of an advisory council for Lanchonete.org, and are planning a hybrid ownership model whereby their organizations can serve as anchors within the association's membership. Both organizations (whose stakeholders are primarily from the periphery) have expressed an interest in having a central location – or food/food service lab – in the Centro for a variety of reasons; therefore, its makes sense to enter discussions with them now regarding future ownership and management of the restaurant facility.
Thanks for reading!
---
More Lanchonete Posts:Lanchonete: